Roosevelt Bridge – Stuart, Florida
Florida has more than its fair share of corrosion concerns, not only due to being surrounded by ocean water, but also by the constantly warm climate where concrete experiences more drying / wetting cycles enabling a higher chloride absorption rate, thus intensifying the corrosion process. The Florida D.O.T. specifies an 8 to 9% silica fume addition rate for all concrete under salt water or in its splash zone. Amongst other concrete performance criteria, a maximum of 1,000 coulombs @ 28 days has to be achieved, as evaluated by the AASHTO T-277 Rapid Chloride Permeability test. In 1993 the Roosevelt Bridge in Stuart started construction in southeast Florida along US Hwy.1.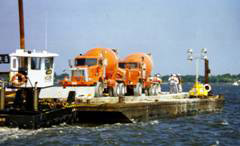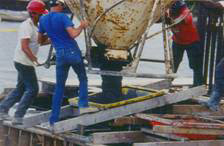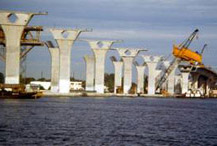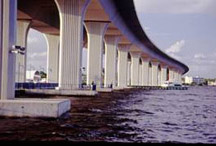 Mass concrete barged to location to Florida D.O.T. project at ocean inlet for new US 1 bridge
Roosevelt Bridge, Stuart, FL -1993
Mix Design Materials
lbs / yd3
kg / m3
Cement, Type I
451
267
Fly Ash ( 36 % replacement )
257
152
Silica Fume ( 8 % addition )
57
34
# 67 Limestone
1778
1054
Natural Sand
966
573
Water / Cementitious Ratio
0.35
0.35
Basic admixtures Type D retarder & AEA
High Range Water Reducer
1 gal / yd3
4.6 ltr / m3
28 day compressive strength
8,300 psi
57 MPa
56 day compressive strength
9,100 psi
63 MPa
Specification Requirement: very low permeability, i.e.<1,000 coulombs
PS: the above description and mix design pertains only to the Class V Special f'c=6,500 psi F-DOT mass concrete specification, of which approximately 10,000 cubic yards of concrete were furnished for pile caps.