Concrete
High Performance Concrete (HPC) containing silica fume has been identified as one of the more important advanced materials necessary in the effort to rebuild the nation's infrastructure. In addition to increased strength and enhanced durability, HPC produced with silica fume delivers increased toughness, increased resistance to abrasion, corrosion and chemicals, sustainability and life-cycle cost efficiencies.
Highway bridges, parking decks, marine structures and bridge deck overlays are subject to constant deterioration caused by rebar corrosion current, abrasion and chemical attack. Silica fume will protect concrete against deicing salts, seawater, traffic and heavy impact. Rebar corrosion activity and concrete deterioration are virtually eliminated, which minimizes maintenance expense. Key benefits include:
Very low permeability to chloride and water intrusion
Extremely high electrical resistivity (20 to 100 times greater than ordinary concrete)
Increased abrasion and impact resistance on decks, floors, overlays and vertical structures
Superior resistance to chemical attack from chlorides, acids, nitrates and sulfates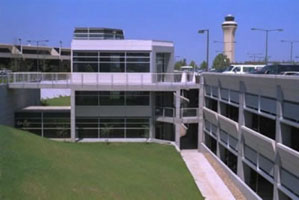 Kansas City International Airport
650,000 square foot parking garage placed with silica-fume concrete. Average compressive strength was 3,965 psi at 2 days for post tensioning. Rapid chloride permeability (RCP) value of 250 coulombs was achieved with the addition of silica fume.
High-strength concrete enhanced with silica fume provides architects and engineers with greater design flexibility. Traditionally used in high-rise buildings for the benefit of smaller columns (increasing usable space) high-strength concrete containing silica fume is often used in precast and prestressed girders allowing longer spans in structural bridge designs. Key advantages include:
Compressive strengths up to 20,000 psi (140 Mpa)
High modulus of elasticity exceeding 7 million psi (40,000 Mpa)
High flexural strengths up to 2,000 psi (14 MPa)
High early strengths for fast-track construction projects and precast applications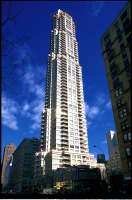 Trump Palace, NY
In 1989, this luxury residential tower set a new specified compressive strength record for the NYC building code, with silica fume concrete utilized in all vertical applications of this high rise structure.